Raph Koster
recently did a presentation at
GDC Prime
in San Diego. Along with his speech were numerous slides, 101 to be exact. Thankfully, Raph's a nice guy and edited the slides to include some of the audio comments he made during the actual speech. Whats more is that the slide presentation is
totally awesome
. Its about the new media world we're living in today. Koster says some fairly eye-opening stuff. Or at the very least its enjoyable to simply progress through the slides and realize its meaning while pondering its importance.
And here is the moral of the story: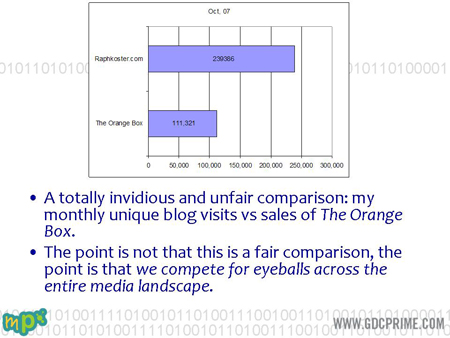 I think he's right, really (and maybe you do too if you're one of his multi-thousand visitors). Games are quickly becoming much, much bigger than the small box in which we strive to define them. Facebook applications, for example. What I get out of this is . . . this: We need to start broadening our perspectives to account for multiple forms of media and game design. Nobody's telling you to disregard
Halo 3
as a video game, let alone that it is a good, successful, or exemplary video game.
Halo 3
is anything but insignificant. But just because
Halo 3
is important to you, and me, and many, many others, doesn't mean facebook applications can't have their place as video games or media, too. Games aren't so mainstream anymore, and thats a good thing; we just have to embrace the changing face of video games.
Via:
DevBump
(go there. its a great resource.)